AFD China Ranked Again in 2020 IAM Patent 1000
2020-06-23
We are delighted to share that AFD China Intellectual Property was once again ranked as a leading patent prosecution firm in the 2020 edition of the IAM Patent 1000.
AFD was recommended because of our "efficient, clear, cost-sensitive and responsive" services. We also received many testimonials from foreign associates in terms of our drafting and filing capabilities.
"For many years now, AFD has been our number one, go-to firm in China for patent work, mainly because of the fantastic level of service and superb legal advice. They act as very high-quality attorneys for us, putting forth to our client the best way to proceed both technically and commercially. Many other firms we've experienced in China only act as agents who simply translate and report, without providing any additional advice. We award AFD five out of five stars!"
"What really sets AFD apart is the speed and detail of response. We have had cases whereby after receiving an email overnight from them, we ask questions in the morning and still get a reply."
"We've had an IP counsel from a major client remark that the work quality was the best she'd ever seen coming out of China."
Our president Mrs. Xia Zheng was recommended as a leading practitioner for being "very reliable, extremely responsible and extraordinarily competent and knowledgeable". A client wrote that "she always gives legally and economically sound and profound advice, so that everything we want to know is accounted for."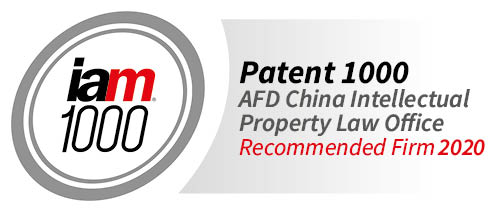 IAM Patent 1000 identifies the top patent professionals in key jurisdictions every year. The research lasted for five months and included more than 1,800 interviews with numerous patent attorneys and in-house counsel.